Mapleview House Concerts brings you top talent from Canada and beyond, in an intimate, friendly setting (a comfortable, spacious livingroom) at an affordable price. View the concert calendar to see what's up next and who we have presented already.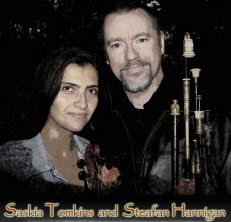 Celtic duo, Saskia Tomkins and Steafan Hannigan, both multi-instrumentalists

The Sultans of String (Duo)
2015 JUNO nom/SiriusXM winners Sultans of String create "Energetic and exciting music from a band with talent to burn!" (Maverick Magazine, UK). Thrilling audiences with their genre-hopping passport of Celtic reels, flamenco, Gypsy-jazz, Arabic, Cuban, and South Asian rhythms, fiery violin dances with kinetic guitar, while bass and percussion lay down unstoppable grooves.

October 20, 2018 – Claude Bourbon
Ready for a unique and talented take on a wide range of musical traditions? New to Mapleview House Concerts, Claude Bourbon is known throughout Europe and America for amazing guitar performances that take blues, Spanish, Middle Eastern, and Russian stylings into uncharted territories.

November 26, 2017 – Searson
The Searson sisters perform on a variety of instruments throughout their live show which includes Colleen on fiddle, vocals and Ottawa Valley Step Dancing while Erin performs on piano, vocals, Ottawa Valley Step Dancing and tenor guitar.