March 19, 2017 – Joël Fafard
[gigpress_related_shows]
By popular demand, roots and bluesman, Joël Fafard returns to Mapleview!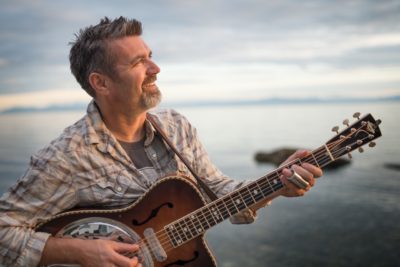 Award-winning guitarist Joel Fafard performs Southern roots and blues classics with the soul of a purist and the showmanship of a seasoned entertainer.
He sings with the sexy, sandpapered-sounding vocal style of the new-generation bluesman. He tells his hilarious between-song stories with the confidence of a late show host delivering his monologue. And when he lets rip a solo on his resonator guitar, it's easy to hear how he once earned both a Juno nomination and a Western Canadian Music Award for his skills on the axe.
With his latest albums, Fowl Mood, Cluck Old Hen and Borrowed Horses, along with his live show, Fafard is using his uncommon skill as an entertainer to embark on a new musical mission: breathing new life into grand old numbers like "Ain't no grave," "Sitting on top of the World," "Spoonful," and "Long Black Veil."
With a Juno nomination, a Western Canadian Music Award, two WCMA nominations and two Canadian Folk Music Award nominations to his credit, Joel Fafard has proven that he can take a niche genre like instrumental guitar music and make a significant name for himself at it.
His performances are as authentic as those of a Beale Street busker but infused with a touch of contemporary urban attitude. And his live show is pure polish and professionalism.